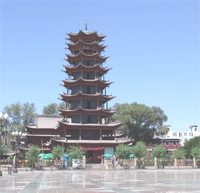 The Wooden Pagoda is located inside the campus of a middle school. It was first built during the North Zhou Dynasty and has been rebuilt and renovated several times during the following dynasties. But the original pagoda was destroyed and the one visitor see today is work completed in 1926. The nine-storeyed structure was purely built with wood.
---
Giant Buddha Temple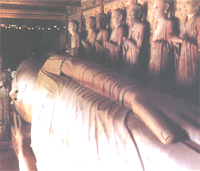 The Giant Buddha Temple at the southwest part of the city is the largest buildings complex of the Xixia Kingdom in Gansu Province. It was built in 1098 AD. The existing buildings contain a Giant Buddha Hall, a scripture hall and a clay pagoda. The Giant Buddha Hall is 33 meters high and looks grand. The Giant Sleeping Buddha is housed in this hall. The Buddha is 34.5 meters long and 7.5 meters wide between its two shoulders. Its large ears are as long as 2 meters long. This is the largest inside sleeping Buddha in China.
---
The Yugur ethnic minority, one of China's many nationalities with only a limited population of 10,000 live in this area on the foot of the Qilian Mountain. Like the other ethnic people in China, Yugur people are good at singing and dancing. Visitors can taste the local dishes and enjoy their colorful culture when traveling there.