Confucius Temple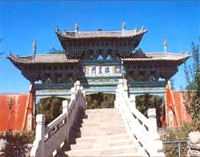 The Confucius Temple lying at the southeast of the city is a grand building complex in ancient palace style. This ancient complex traces back over 500 years ago to the Ming Dynasty. In the following hundreds of years, the temple has been reconstructed and renovated for several times with its basic style remained without many changes.
Confucius Temple called Wenmiao in China was a sacred place for ancient scholars to worship Confucius. The complex covers an area of 1,500 square meters and is the largest and best-preserved temple dedicated to Confucius in Gansu province. The complex looks primitively simple and stately with towering cypress, colorfully decorated halls. Now the Confucius Temple is the site of the Wuwei Museum.
Eastern Han Tomb in Leitai Temple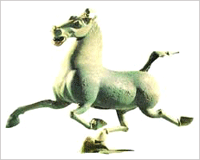 It is also called "The Tomb of General Zhang", a general of late Han Dynasty who was buried in Leitai after death. The tomb around 19 meters long is divided into three parts. Since it was discovered in 1969, a large number of valuable relics have been unearthed with the most important find was a "galloping horse stepping on a sparrow", which was became of logo of China's tourism.