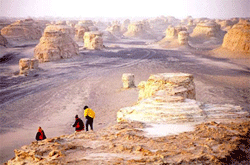 Yadan is an internationally used term referring to a special physiognomy in the arid areas. The word originated from Uygur language, one of the many ethnical languages in China. It means steep earth mounds. Many years of erosion of strong winds and heavy rains over the gradient loess have formed dozens of parallel ridges and gullies. These ridges stretches according to the direction of winds, take different shapes, lengths. The longest one is hundreds of meters while the shortest one is just several centimeters. Yandan is widely spread in the Lop Nur area.
The most typical Yadan is the Dragon City in Ruiqiang County. Looked from the top of a 10-meter-tall earth mound, small yellowish earth hillocks scatter around everywhere. They take different shape some like solid castles, some resembling high rises interconnected by a web of streets and alleys.
Tips:
Bring warm clothing even in hot summer. Gauze masks, cream, eye lotion, specially-made spectacle are adviced to protect against the strong wind.