Located to the northwest of the Big Wild Goose Pagoda, in the south suburb of Xian city, the Shaanxi Provincial Museum is a epitome of Shaanxi' glamorous imperial past. The museum building was designed in China's ancient Tang Dynasty style, grand and elegant.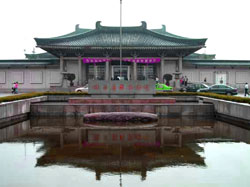 Shaanxi was a premier in China's imperial past. Xian, was served as capitals of 12 dynasties over years. It was the seat of some oldest civilization. Xian, a place of significant importance in history is well-endowed with many historical sites and relics. Now most of these relics scattering around everywhere in the region have found their way in the Shaanxi Provincial Museum. The building covers a area of over 70,000 square meters and houses more than 37,000 historical relics evacuated around Shaanxi area, including Bronze wares from the Western Zhou Dynasty, 3 thousands years ago, terra cotta figures, gold and silver wares and murals discovered in Tang tombs, and much more.    
The exhibit, main part of the museum is composed of three sections: the Basic Exhibition Hall, the Theme Exhibition Hall and the Temporary Exhibition Hall.
The Basic Exhibition Hall

This hall covers 6,000 square meters and displays more than 2, 000 historical remains. The hall can be divided into three parts: Preface Room, the Shaanxi Local Historic Exhibition Room and the Main Room. The Shaanxi Local Historic Exhibition Room is arranged into seven small parts of the Prehistoric Period, Zhou, Qin, Han, Wei, Jin and the Northern and Southern Dynasties, Sui Dansty, Tang Dynasty, Song, Yuan, Ming, Qing dynasties, with a focus on the social development from the Stone Age to the decline of China's imperial history in 1840.
The Theme Exhibition Hall

Many theme items reflecting Shaanxi's characteristic local culture are displayed in this hall, including the Silk Road Exhibition, Yaozhou Porcelain Exhibition and so on.
The Temporary Exhibition Hall
This hall mainly used for temporary exhibition from home and abroad. The most impressive exhibits here are the murals from the Tang Dynasty tombs. The murals are of great value to explore Tang Dynasty's social life and its grand culture.
Note:
The main exhibition hall of the Museum will be closed from Jan 25th to June 7th 2007 for  indoor renovation. The museum will remain to open to visitors during the renovation but all exhibits will be on display in two small exhibition-rooms of both east and west side buildings inside the museum. Besides, the construction may result in noise and dust. Museum has promised to do their best to help the tourists with their visit .Special visits such as Tang-dynasty Fresco gallery can be conducted as usually.