The Mosque located at the Huajue Lane in the center of the city, is the largest and one of the most important Islamic mosque in China. It's construction started in 742, the first year of Tianbao period of the Tang dynasty, and additions were made during the Song, Yuan, Ming, and Qing dynasties which makes it an ancient architectural complex,.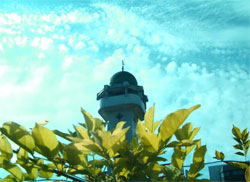 In the Tang dynasty, Islam was introduced to China by the Arabian merchants. Many Muslim settled down in China and married Han people. The Great Mosque was constructed at that time to honor them. Since ever, several other mosques were erected across the county.

Covering an area of 6,000 square meters, the whole complex can be divided into four courtyards. In the first courtyard, there is a wooden arch. The arch, 9 meters high, with glaze-covered tiles, can be traced back to 17 century. Three chambers stand by each side of the arch, in which now displays some furniture preserved from the Ming and Qing Dynasties. On the center of the second yard stands a stone arch with two steles on both sides. On the steles are famous calligraphies from prominent ancient calligraphers. The Fourth Courtyard contains a big prayer hall which can accommodate over thousands people at a time.  

The mosque is a combination of traditional Chinese architecture and Islamic art. In Chinese style, it constructed as a series of pavilions, buildings with four courtyards between them. The wall, however, is decorated with Islamic art.

It is the only one Mosque that opens to visitors in the country. But non-Muslim visitors are not allowed to enter to the main prayer hall. The Great Mosque was added to the UNESCO Islamic Heritage List in 1985.