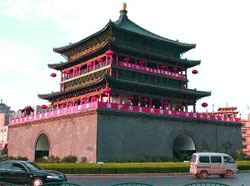 Standing at the crossing of the East, West, South, and North avenues in city proper, the Bell Tower has been a symbol of Xian.

The tower was originally built in 1348, over 600 years ago and it was moved the present site in 1552 and then rebuild and enlarged in the Qing Dynasty. It has been the symbol of Xian. There used to be a huge iron bell hung in the tower, which was used to strike hours, thus the name Bell Tower. The bell fell sometime later and now it was placed on the northwest corner of base.

The tower was a wooden structure topped with dark green tiles. It is a grand ancient building with traditional Chinese architectural features. The Bell Tower is beautifully lit at night.

From the top the Bell Tower, visitors can get a bird's eye view of the surrounding areas and the building's brightly-decorated eaves.