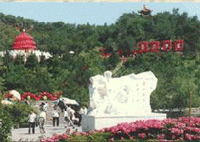 The red hill at the city center is a symbol of Urumqi due to its spectacularity and uniqueness. The hill was made up of impressive red rocks. It stretches 1.5 kilometers long from east to west, 1 kilometer wid. ††
The Red Hill faces the Yamalike River to the south between which originally roared the Urumqi River. However, the river has dried out and became part of a highway. The Red Hill still stands there over 2,00 years through natural erosion and geographical transformation.† ††
An interesting legend related goes that in the remote time, a red dragon escaped from the Heavenly Lake and the Heavenly Empress caught it here and split it into two parts. Each part of the body later formed a hill, the Red Hill and the Yamalike Hill and the sword became the Urumqi River.
Ancient legend has its source from reality. According the terrain photos shot above the earth, the two hills were originally an entirety. They were divided into two bodies due to the geographical earth movement. †
†
Red Hill is mysterious and sacred. Local people regard it as a holy place and worship it regularly.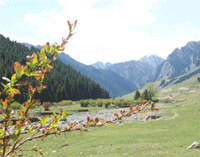 South Pasture
South Pasture is located 60 kilometers away from Urumqi city, about 2 hoursí drive. It is a vast ideal vast natural resort with fascinating natural scenery.
You can not imagine what the place can offer until you have been there. It looks like a stretching landscape painting on which flocks of sheep, yaks grazing, horse galloping, wild flowers booms and the beautiful Uygur girls singing. Deep in the lush valley, a waterfall gently drop down, which perfectly integrate with the pastoral and quite surroundings.
A few yurts sprinkle over the pasture, which are homes of the local Kazakh people. Visitors can visit one family if you like. Actually, many foreign travelers reported that they enjoyed much by staying with the ethnical people. Kazak people are hospital and generous they usually host guest with roasted lamb, milk and their traditional food-rice taken with hands.
If you are luckily enough, you can enjoy many colorful activities such as horse-racing, traditional singing and dancing presented by the Kazak people.
If you are too indulged yourself in this charming place to bear yourself away, there are yurt-style hotels prepared for you. Please be advised to bring warming clothing and flashlights if you decided to do so.† ††††††
Nestling high in the Tianshan Mountain, 115 kilometers west of Urumqi, the superlative beautiful Tianchi lies 1980 meters above sea level and hemmed in by the towering snow-capped Bagda Peak. Tianchi is a natural paradise with breath-taking natural scenery. At first, the 4-hour drive from Urumqi through the seemingly endless desert may seem like a waste of time but Tianchi will provide travelers a quite different experience.
The area is one of the few unspoiled places in the world. The crystal water reflecting the snow-topped peaks, fluffy white clouds and blue sky create a breath-taking beauty. On the bank of the lake is lush spruce forest.
A legend goes that the Heavenly Empress would hold a gala at this lake whenever a local peach tree bore fruit. As this only happened about once every 3000 years, the banquets were understandably grand affairs. All the mortals would gather for suck a long-awaited occasion, making the lake area into something of a Little Heaven, thus the name Heavenly Lake(Tianchi)
While the otherworldly feast and mortals are hard to come by, Tianchiís incomparable beauty has attracted throngs of visitors worldwide. A 2-3 hours hike along shore will bring youi to peaceful coves and grassy hills.†
Tips
: Bring warm clothing with you.