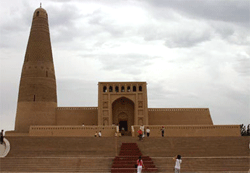 Sugong Ta, an elegant-shaped Muslim minaret, is located some 2 kilometers to the east of Turpan. It is very popular among local Muslims and visitors alike, throngs of whom come to visit it all year around.
It is the largest Muslim tower in Xinjiang region. The tower was built in 1778, over 200 years ago in honor of a great Turpan general -Emin Khoja and his great contribution to the unification of China.
The 44-meter high tower takes the shape of a huge column. It tapers from a big base with 10 meters in diameter to the Islamic dome. The structure is a combination of wood and bricks. 14 elongated windows were open at different levels and directions as a result of the need for the building to get enough sunshine and ventilate. The surface of the tower is carved with more than 15 different patterns such as waves, flowers and rhombuses. These elegant patterns are the highlights of the art of the Uygur.